Thank you for signing up on the Global Trading School starting from January to March 2021!
Please read through the following instructions and get ready for the Day 1.
Stay Gold!
* Please make sure to save this page on your favorite holder before closing it.
Course Schedule
There will be 13 sessions in total. Below is a sample of weekly theme. It can be changed depending on members' level and market condition.
Weekly Theme example
Date
January, 2021
1st Session: Introduction and Trade Strategy
3 January, 2021 (Sunday)
2nd Session: Trend Capture Strategy
10 January, 2021 (Sunday)
3rd Session: Stop Loss and Breakeven Strategy
17 January, 2021(Sunday)
4th Session: Take Profit Strategy
24 January, 2021 (Sunday)
5th Session: Profit Trailing Strategy
31 January, 2021 (Sunday)
February, 2021
6th Session: Position Sizing
7 February, 2021 (Sunday)
7th Session: How to write a trading journal
14 February, 2021 (Sunday)
8th Session: What to learn from your own trades
21 February, 2021 (Sunday)
9th Session: Tracking the trade history
28 February, 2021 (Sunday)
March, 2021
10th Session: Competition begins
7 March, 2021 (Sunday)
11th Session: Trade Feedbacks
14 March, 2021 (Sunday)
12th Session: Trade Feedbacks
21 March, 2021 (Sunday)
13th Session: Trade Feedbacks
28 March, 2021 (Sunday)
Time: Every session starts at 9:00pm JST (12:00 noon in UTC, 7:00am in EST, 4:00am in PST in Winter time)
What to prepare until the Day 1?
The following is the tools and assignments to prepare until the day 1.
Log in to Discord
Take a survey
Prepare for a Demo Account
Set up a 1 on 1 Skype chat before the day 1
1. Log in to Discord
Once the session starts everything will be managed within Discord privately. So first, please log in to Discord via link below.
In case you have any issues to log in, especially if you are new to Discord, please feel free to contact me via Contact Form.
2. Take a survey
After logging into Discord please click #welcome-to-gts channel on a left.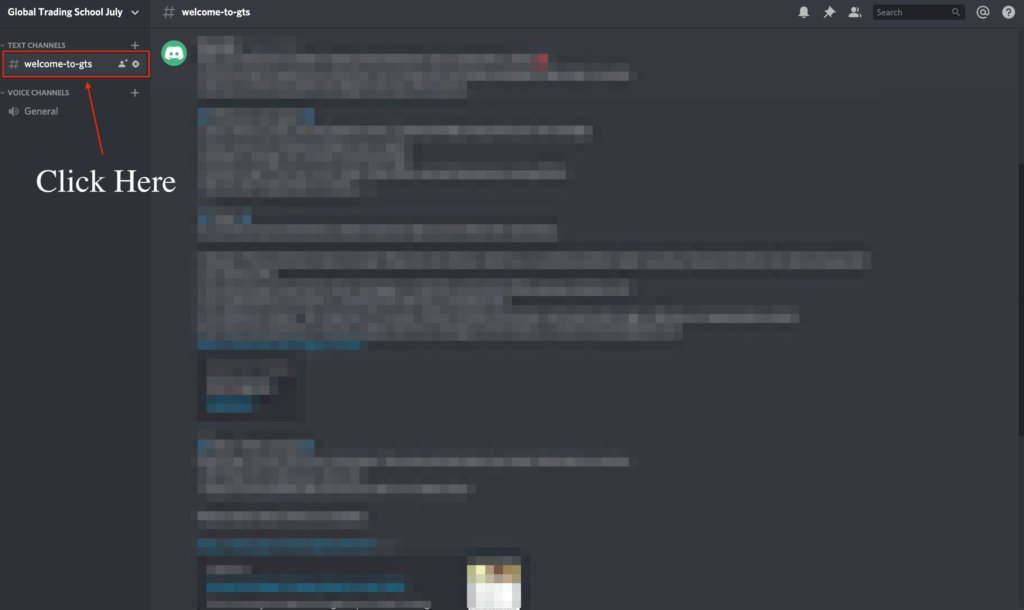 Everything should be self explanatory in there but below is further steps you can expect afterwards.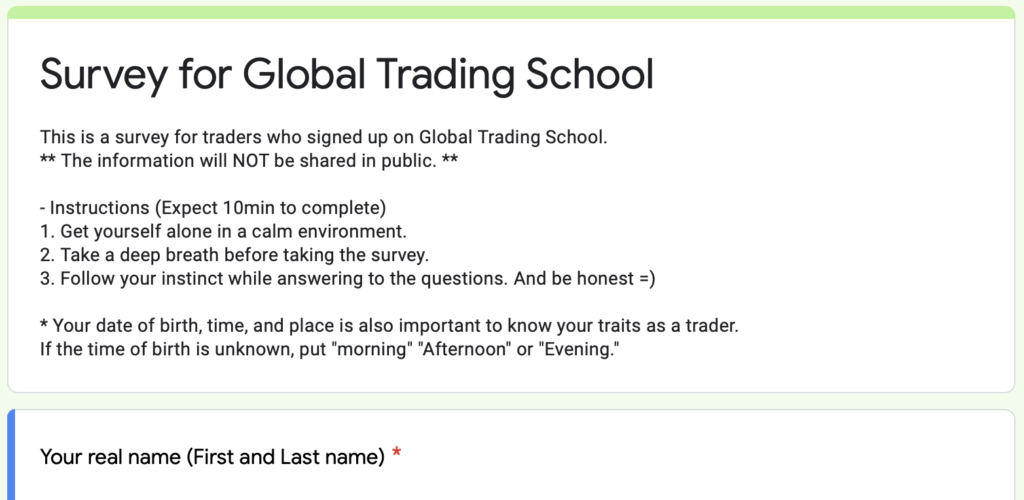 If you scroll down a little bit on Discord page, you will see "Step 1: Take a survey" where you can see a link to take the survey. You will be asked some basic questions as well as
– Your Nick Name (to create your name tub on Discord)
– Skype ID and available date and time for 1 on 1 chat
Please have enough time (about 10min) to take a survey.
Just in case, you can also access to a survey from a button below.
3. Create a Demo Account
You will be trading with a demo account (for free) for the session.
I recommend to use XMTrading but it can be with any other brokers.
For XMTradig access to XMTrading official webpage >> Link
Click "Open a demo account" and create a demo account with investment amount of $1,000.
Log in to a platform (e.g. MT4, MT5) and activate the account and get ready for trading
4. Set up a 1 on 1 Skype chat before day 1
We will do a short chat before the day 1 starts based on your availability provided on a survey, just to make sure everything is ok with you.
If you have any questions, you can raise them during the Skype chat.
Also, I will do a follow up 1 on 1 Skype chat each month and make sure you are on a right track.
If you are not using or have never been used Skype, make sure to do a test call beforehand.
Please see how to do a test call by yourself on below button.
Brief Tips and rules
What time does it start?
The session starts at 12:00 noon in UTC every Sunday before my public live stream on Youtube. Make sure to give yourself enough time to be on Skype, ideally 5 to 10 min beforehand.

I'll take a head count when starting a session.
Rules
Joining via PC is recommended as I will be sharing the screen

Do not have a personal connection with participants (to avoid troubles)

1 min rule: Participants are allowed for 1min to speak so that everybody has a chance to talk equally

The contents and information during the sessions should be kept private as it may contain personal information
If there's anything, feel free to contact me below