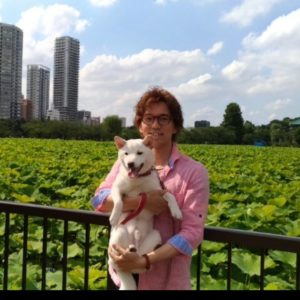 "Forex taught me everything that is important in my life"
Introduction
Hi, thank you for visiting my website. My name is Kei and I am an individual Japanese forex trader.
In my website, I am posting about trading techniques as well as mental techniques in order for the visitors to achieve their success.
I wish all the best to everyone who visits my webpage.
About Forex Kei
Let me introduce some of the articles interviewed by my trading supporter.
Why did you become a forex trader?
I am a type of person who loves to investigate on things thoroughly, like a researcher.
When I first saw the forex chart in 2013, it literally arouse my sense of intellectual curiosity more than anything that I have been engaged for my entire business experience. And it stays the same ever since then.
What is "trading" to you?
For me, forex trading is something that is excitingly enjoyable and that I learn a lot from it every single day at the same time.
I truly realize that life is all about learning.
By focusing constantly on the events happening around the world, and by analyzing the depth of people's reaction and sentiment, this profession keeps intriguing my curiosity and truly admire that this is my vocation.
Timeline and highlight of my life
IN JAPAN

1982
0 years old


I was born in Osaka,

Japan.

1985
3 years old

I started to play the

violin.

1992
10 years old

My family moved fro

m Osaka to Tokyo for my father's MA education.

This photo is me and my father.

1998
16 years old

I studied abroad in Toronto, Canada when I was sophomore at high school.

IN the US

2000
18 years old

I entered into Irvine Valley Collage in Los Angeles, California.

2002
20 years old

I run out of money, so went back to Japan and worked at IT company to financially prepare for my continuous education at the

University.

2003
21 years old

I enrolled in Santa Monica College in Los Angeles, California.

While I was a student, I worked exclusively as a college counselor within the campus.

Also, I was teaching Japanese at a local Japanese school and was in charge of a group of 20+ students.

2006
24 years old

I obtained BA in Psychology at University of California, Los Angeles (UCLA).

After graduation, I joined a financial company that manages mortgage, life insurance and real estate.

I was a manager a group of 6 members as a financial chief advisor and managed individual portfolios.

IN JAPAN
2010
28 years old

I came back to Japan and joined one of the biggest IT companies in Japan as a talent management and human development manager.

2013
31 years old

I first encountered forex and its chart.

I started trading with $10,000 amount.

2015
33 years old

I stated to teach trading techniques and mental techniques to beginners and active traders.

2018
36 years old

I became self-employed as an individual trader.
Check My 2nd Channel!
Click here to subscribe to my 2nd Youtube channel.
Here I will be uploading videos of what I think, feel, and express in daily life.
Contact
Note
Your questions or messages may be answered or shared on my videos. Your personal information (name and email address) are not going to be disclosed, but if you are not comfortable, then put that on the message.
It may take few days to reply. If there is no response even after one week, there is a possibility that the message is missing, so please resend it.