Learn the Ichimoku knowledge and techniques of Ichimoku Kinko Hyo via Japanese trader directly
Learn Ichimoku Kinko Hyo step by step through the books
Get to know other Ichimoku traders to brush up the skills with each other
Hello Ichimoku Traders! My name is Kei and I am a Japanese full time forex trader.
Ever since I started forex trading in 2013, I have been studying and using Ichimoku Kinko Hyo and not only just the techniques but it's actually been my trading philosophy in my day to day analysis.
And ever after I started my YouTube channel in 2019 I received lots of comments and requests, such as "I would love to hear about Ichimoku from you." "Could you teach me how to use Ichimoku properly?" etc from trades all around the world.
Then gradually I started to realize the fact that there are many different Ichimoku knowledge and interpretations throughout the world which I never noticed as I only studied it in Japanese.
And that, I decided to deliver the messages of Goichi Hosoda as a Japanese trader who actually studied it from his original books, which has been truly a great honor and my pleasure.
Also, getting to know other Ichimoku trades is such an exciting opportunity for me, and therefore I decided to start up and run the Ichimoku community.
The community is available through YouTube's join button or from below button.
Price: $30 USD / month
You can join any time, leave any time, and re-join any time.
Refund will not be provided by client matters. For further details, please check YouTube Help. 
Special Perks available in the community
All the books are written in English in my own words (not the direct translation of the original books).
1. Ichimoku Basic Master book (worth $70)
2. Ichimoku Basic Theories book (worth $60)
3. Kyushu Legs book (worth $60)
Through 16 chapters with over 140 pages, the book touches not only the philosophy and original story of how it's created, but also the essence of all the 5 lines, Kijun sen, Tenkan sen, Senko span A, and B, and Chiko span and how to take trades with these lines while trending and ranging with latest chart examples in 2019 and 2020.
There are members-only livestream reviews done on every single chapter so not only by what's written, you can also obtain deeper understanding from the archived videos as well.
Kyushu Leg is one of the Ichimoku strategies which focuses on weekly timeframe with a special candlesticks called Kyushu Legs. 
In the book you will find how the Kyushu Legs are formed by calculations as well as some practical strategies with examples.
4. Corrected Ichimoku Indicators for MT4/MT5
5. Corrected Ichimoku Indicator for Forex Tester
As you may know, the displacement of Ichimoku Kinko Hyo indicator on MT4 and MT5 are incorrect. In the community we have the indicators with correct displacement so that you can do the correct Ichimoku analysis.
Since default Ichimoku displacement on FT5 is incorrect, I am providing the corrected indicator as well as a guide to install.
Livestreams, Groups, and Events
1. Members only Livestream
Members only livestream happends every Thursday and Saturday after public live.
It covers market analysis, IBM, IBT, or Kyushu books review, Q&A sessions, live trades, forex tester strategy reviews, etc.
You will also have an access to members only Q&A section where you can write any questions you have about Ichimoku or any other topics related to trading.
These questions will be answered during members only livestreams and everything is saved on the archive.
My answer to every single question is accessible via hyperlinks on Discord.
You will have an access to members-only Discord where you can share and exchange your Ichimoku analysis and views, and communicate with other Ichimoku members.
I also post my own analysis on pairs regularly.
There are quizzes based on each chapter of Ichimoku Basic Master book.
They are also accessible via Discord to further establish your knowledge chapter by chapter.
This is a monthly meet-up event where Ichimoku members can socialize face to face by Zoom.
You can use unique Ichimoku emojis which I also created. Actually I drew them by myself and turned to png format =)
They are available on YouTube public/membership lives as well as on Discord. Feel free to use them and warm up the events!
Once you become a Ichimoku member, you will have a badge besides your name.
Starting from blue badge, every month the color turns to green… red… and finally to gold, so that you can STAY GOLD in your Ichimoku journey!
Level of Satisfaction of KIC
Summary of Kei's Ichimoku Community (KIC)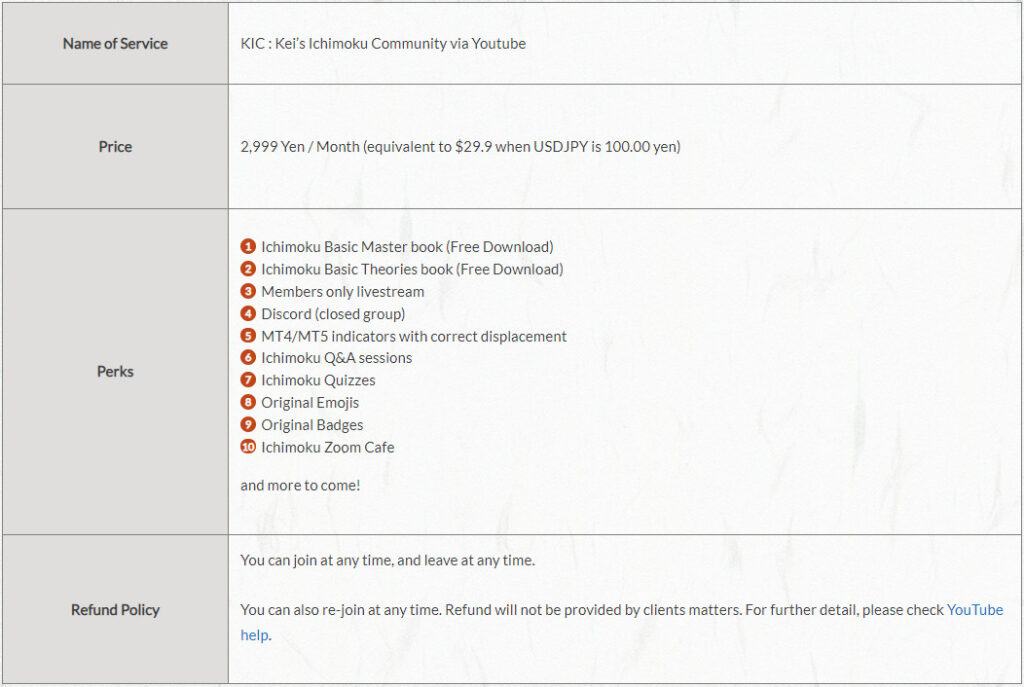 Q1: How to join the Ichimoku community?
Basically you follow 3 steps, click JOIN button on my YouTube channel, join Discord, and connect your YouTube account to the Discord. Then you have all the perks. Please follow the above instruction on this page.
Q2: I am new to forex or stock trading. Am I qualified to join?
A: Yes, you are. As long as you are interested in learning Ichimoku Kinko Hyo, you are welcomed to join the community. Whether you are experienced trader or not really do not matter.
Q3: Where can I see the schedule for future membership lives?
A: You can find the schedule on a top page of my website: https://forex-kei.com/
Q4: I cannot see the JOIN button on YouTube.
A. There are multiple reasons as to why you cannot see the JOIN button, such as old version app, mobile access, regional restrictions, etc. Please refer to a video below to resolve the issue. If you cannot still resolve it, then please ask YouTube for a help.
Watch Video: For those who cannot find a JOIN button. 
Q5: Is it possible to re-join the community after I leave?
A: Yes, you can always come back to the community without losing a badge status. Please check YouTube help for how to unsubscribe.