GTS October to December, 2020 is now open!
Group Mentoring the traders
Every Sunday at 9:00pm in JST (12:00 noon in UTC, 8:00am in EST, 5:00am in PST) the members will get together via Skype.
You will have assignments to submit every time you join the sessions. Make sure you log in to Skype 5 to 10min beforehand.
There will be traders from different places with different backgrounds and you will also have a chance to communicate with them. Please make sure to interact with full respect and honor. If you cannot follow the guideline, you might lose the membership based on my judgement.
The seat is limited up to 5 traders.
Please click below button and contact me to put you on a member's list.
Members interview
Melanie from UK
What you can expect from Global Trading School
You will have a chance to get direct mentoring from a full time trader who has been trading for the last 7 years. The main objective of GTS is to help traders be able to take trades by their own, by not only trade strategies but also structured money management and psychology.
3 months of intensive training for mid to upper level traders
The group is limited up to 5 members
You will notice your unconscious thinking patterns, traits, strengths and weaknesses, and learn from your own trading records based on forex money management sheet.
You will be trading with a demo account during the sessions. I will be mentoring you by looking back your results every week based on the R-PDCA method. (What is R-PDCA?)
The mentoring will be taken place in a group of traders. You will have a chance to listen to other traders' opinions, so that you will have an objective perspective.
Original System: You will be learning how to operate R-PDCA and utilize your own trades after graduating from this course.
There will be extra voice chat sessions
Members only videos for my real time trades (when I take positions, exit, take profit, etc)
The curriculum is based on three major components
GTS is composed of Strategy, Money Management, and Mental Management
I will guide you the way to understand trading strategy, money management, and trading psychology and how to combine them altogether in your day to day tradings.
1. Strategy (KTS)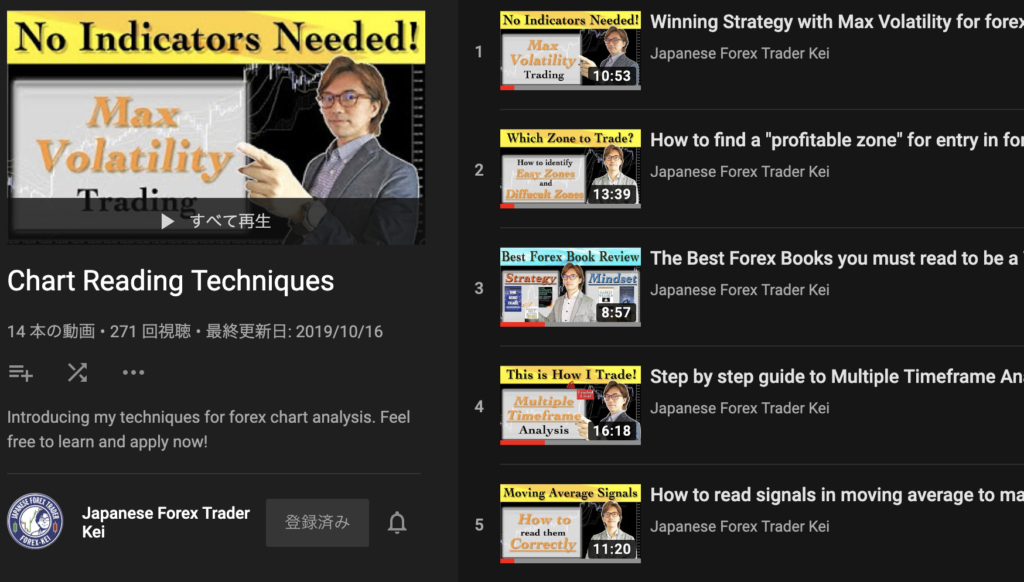 Direct hands-on lecture of my trading strategy (KTS)
You can also use your own trading strategy
You have been watching my trade strategies on my YouTube channel, however, you may have found it's very difficult to apply them in your day to day tradings. The point is whether you can fully apply my strategies or not in your trading.
No matter how much and how hard I talk about my strategies on videos and lives, often times it is difficult to take them into correct actions for viewers. GTS gives you a great opportunity to directly learn and apply my strategies within a group of traders.
2: Money Management
Below is samples of lot sizing calculator and KeI's Forex money management sheet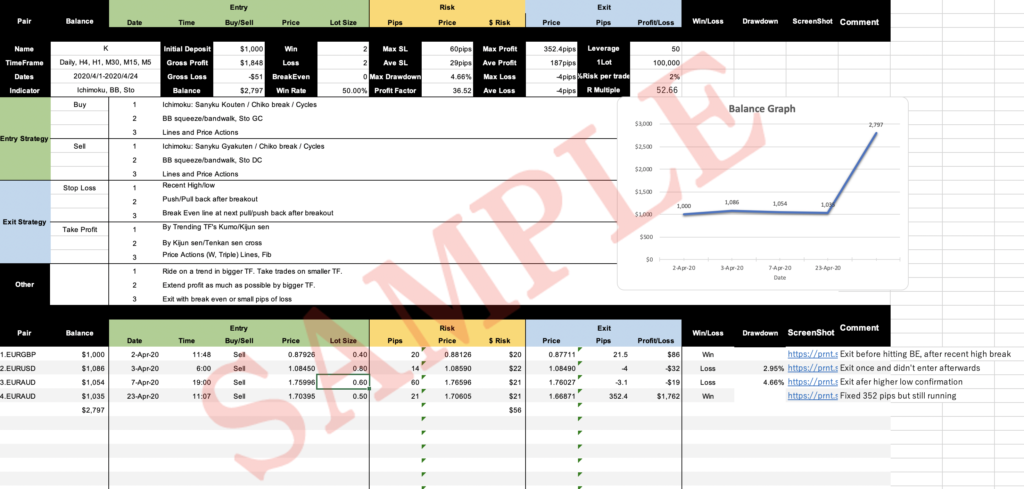 GTS offers below money management strategies.
How to find the best position sizing
How to write trading journals every time you take trades
How to use and manage your own money based on Kei's Forex Money Management sheet
How to place stop loss and take profit, and how to trail the profit
Your trading result will be much improved and gets stable by using the above money management strategies in your day to day tradings.
With a decent trading strategy itself, you might be able to become a profitable trader in 1 to 2 years. However, if you wish to keep surviving on the market for the next 10 or 20 years, money management strategy becomes necessary. By managing your own result with objective numbers, you can look them back and refine your future trades.
You cannot just earn money and spend it. However, it is rare to find a trader who knows how to correctly manage profits earned from the market.
3: Psychological Management
Below is a sample of how  members submit their trading records on Discord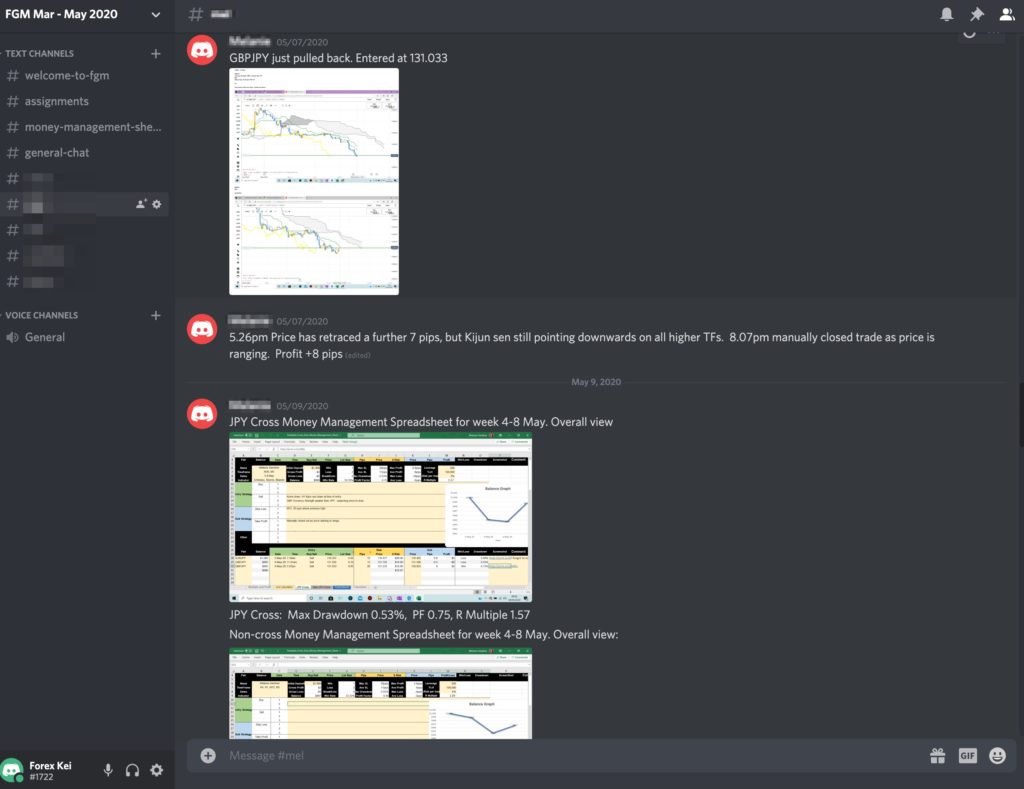 While trading, you might get frustrated or regret. For example,
"I wish I was able to buy here…"
"I missed the chance of a great trading edge just 30 min ago."
"Losses are getting bigger and bigger. I feel scared to take a next trade."
I used to have above feelings. And I think these are some of the emotional states that serious traders would face.
Therefore, within a course of GTS I will guide you how to manage fear, anger, anxiety, or self-satisfaction while trading on each member.
Personality check by R-PDCA
Face to face 1 on 1 mentoring every month end
I will guide you to eliminate the obstacles to get success as a trader
Everyone has different personality but uniqueness is categorized as uncertainty in the world of market. It is dangerous for traders to be ruined by the market's uncertainty because it might result eternal deportation from the market.
Based on my own experience as a school, carrier, and forex mentor who studied Psychology at UCLA, you will have a clear guidance on how to manage your own mentality.
3 special features that only Forex Trade Kei can offer
1: Identify and refine your problem by R-PDCA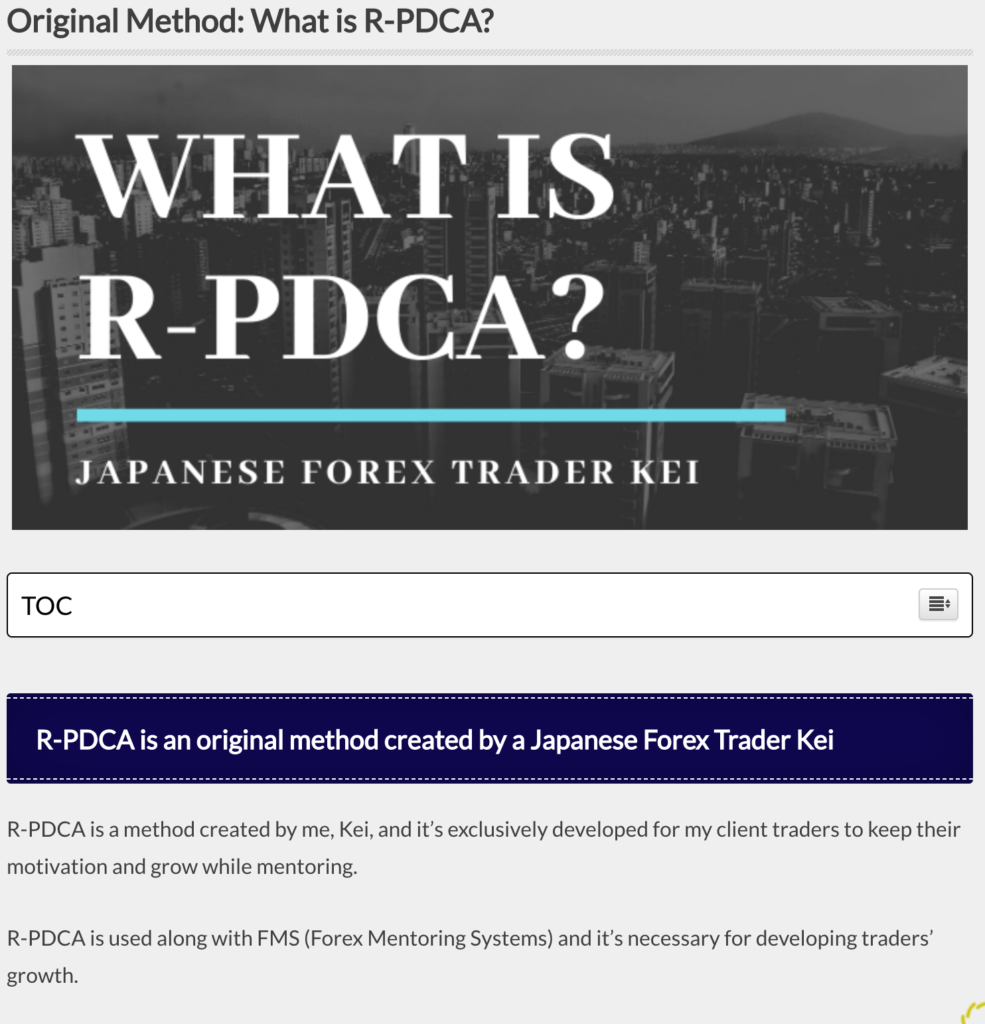 By using a special questionnaire based on R-PDCA, I will spot exactly where your current problem is. The form is specialized for retail traders to identify your identity in terms of money personality. It will be sent to you after signing up the course.
2: 1 on 1 mentoring sessions by a pro trader who has counseling and coaching background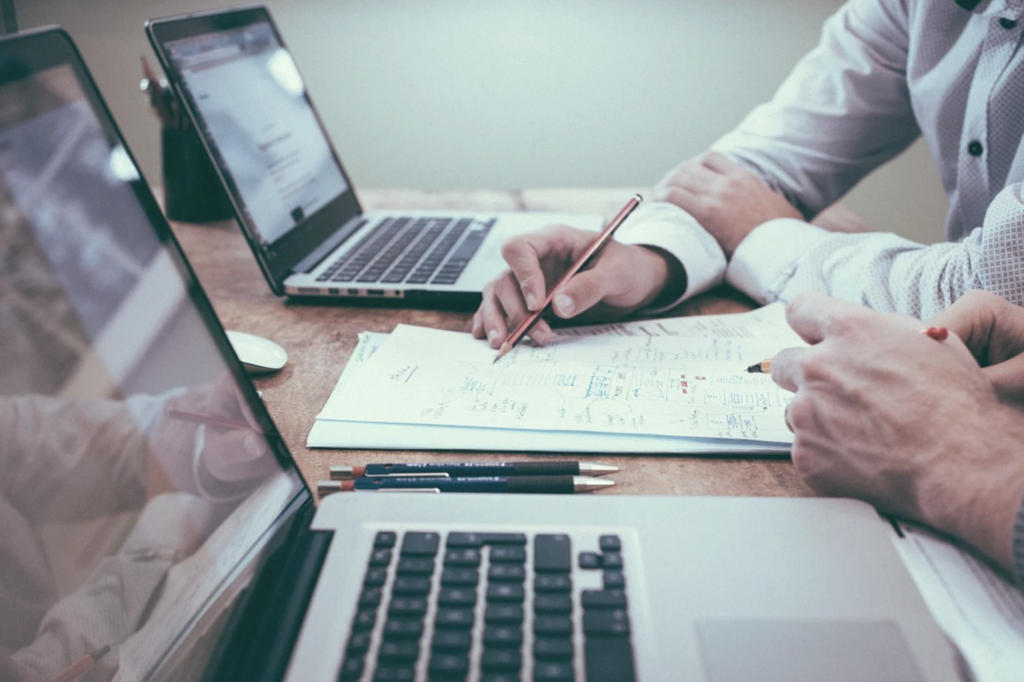 After graduating from UCLA by Psychology major, I have been in fields of counseling, coaching, and mentoring.
You can see all the details on my profile page.
Based on my own method, Forex Mentoring Systems (FMS), I will go deeper on your problems and obstacles in trading, and guide you through to become an independent trader by suggesting realistic solutions.
The purpose of the mentoring sessions is for you to obtain self-confidence and self-awareness to correct mindset, and ultimately to be able to raise proactive changes in your mental state while directly talking face to face.
3: Individual advise to become a "full time trader"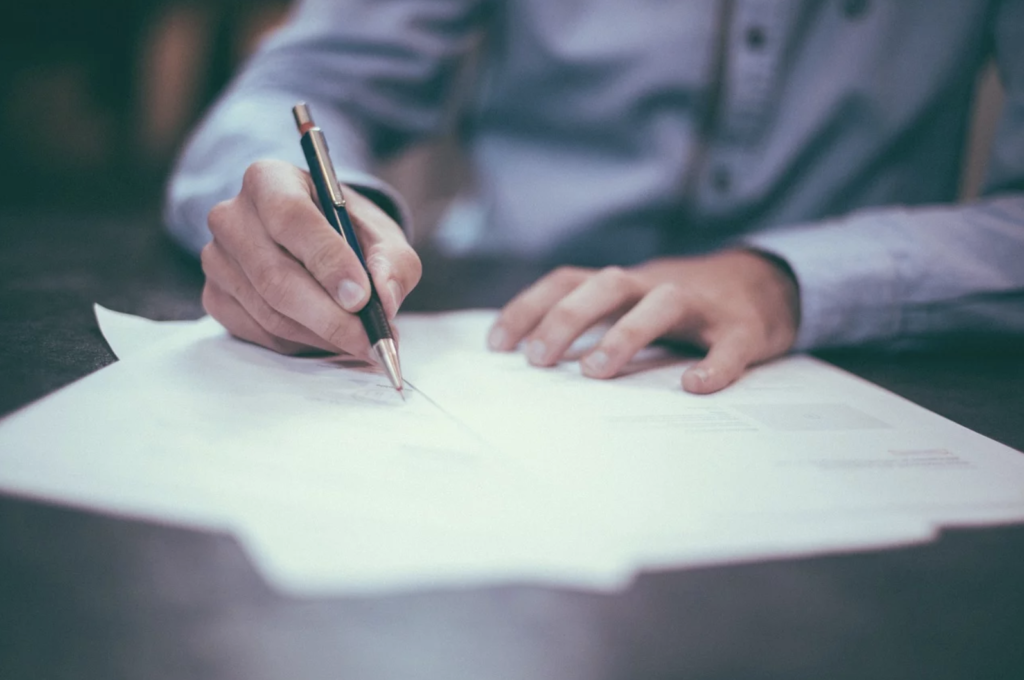 What I mean by a "full time trader" is someone whose main source of income is from trading. Me, as a full time trader, during the sessions I will analyze your current state in terms of skills and mindset, and set up a roadmap of how you can become a full time trader.
By analyzing what you really need to focus and improve, it optimizes your growth capability and contribute to find the best way to get success in trading.
Optional: Additional 1 on 1 sessions are also available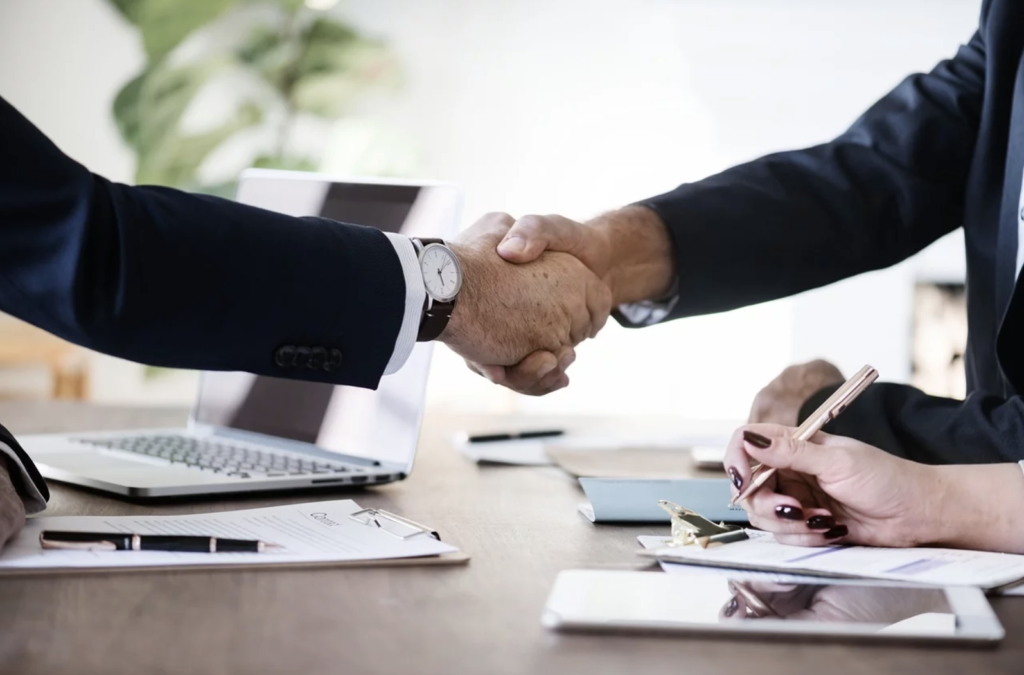 In GTS you will have 3 times of 1 on 1 sessions. But you can have additional 1 on 1 sessions with $200 per session. Each session will be up to 2 hours. All the information is subjected to be confidential and it won't be disclosed anywhere.
Course Schedule and Flow after the payment
Course Schedule
There will be 14 sessions in total. Below is a sample of weekly theme. It can be changed depending on members' level and market condition.
Weekly Theme
Date
October,2020
1st Session: Introduction and Trade Strategy
5 October, 2020 (Saturday)
2nd Session: Trade Strategy
10 October, 2020 (Saturday)
3rd Session: How to write Trading Journals
17 October, 2020 (Saturday)
4th Session: Refining Trading Journals
24 October, 2020 (Saturday)
5th Session: Refining Trading Journals
31 October, 2020 (Saturday)
November,2020
6th Session: Break Even Strategy
7 November,, 2020 (Saturday)
7th Session: Combining SL and BE Strategy
14 November,, 2020 (Saturday)
8th Session: Correct Lot Sizing
21 November,, 2020 (Saturday)
9th Session: Take Profit Strategy
28 November,, 2020 (Saturday)
December,2020
10th Session: Money Management
5 December, 2020 (Saturday)
11th: Money Management
12 December, 2020 (Saturday)
12th: Individually different
19 December, 2020 (Saturday)
13th Session: Individually different
26 December, 2020 (Saturday)
Time: Every session starts at 9:00pm JST (12:00 noon in UTC, 8:00am in EST, 5:00am in PST)
After making a payment to the 1st day
Step 1
Contact me

If you wish to join GTS, please contact me via Contact Form.

Step 2

Make a payment 

First, you will pay a deposit of 10% of the course fee to secure a seat.
Then, once we have 5 participants I will send you a link to make the rest of the fee as well as a link to join members page.

Payment options: Credit Card, Debit Card, or Paypal are available. Installment payment plan is not available.

Step 3

Take assignments

Right after the full payment is completed, you will be forwarded to a members page where you see all the instructions before day 1. Also, you will receive an email with instructions and assignments. Make sure to check you inbox, follow the guidance, and submit the assignments before the session starts.

Please make sure to submit the assignments

1 week before the 1st session starts.

Also, make sure to prepare for necessary softwares, accounts, and devices for the course. All the assignments are created based on Forex Mentoring Systems (FMS). Please check the link below for details.

Step 4

Test call on Skype

Once the assignments are submitted, we will have a little 1 on 1 chat for about 15min to make sure everything is clear for the first day. You can also bring up any questions about the sessions if you have any.

How to use Skype…

If you are new to Skype, check how to do a Skype test call from the link below.

Step 5

GTS Day 1 starts!

Every week you will be trading with demo account, write reports, and run R-PDCA cycle to refine your trades.
Who is suitable to GTS?
GTS is targeted to mid to upper level traders
Below is the basic requirements to join GTS. (But you don't have to be profitable)
You need to know some basic operations, such as drawing lines, opening and closing trades, and placing stop loss and take profit.
You need to know some basic terms related to orders, indicators, and fundamental news.
GTS becomes more effective if you know above basics because the main objective for the course is not teach you all the basics but to teach and guide you how you can improve on your trades overtime.
Summary
Name of Service
Global Trading School (October to December 2020)
Price
Special Price: $3000  $2500
Contents

Group mentoring once a week
Extra voice chat sessions
Members only videos
Mentoring by running R-PDCA
Discord group follow ups
1 on 1 Skype follow ups every month end

Up to 5 traders per group (The seat is limited!)

Schedule
Every Sunday at 9:00am JST (12:00 noon in UTC, 8:00am in EST, 5:00am in PST)
Payment options
Credit Card, Debit Card, or PayPal
Requirements

PC with camera and microphone
Secure Internet
Skype account
Excel with version 2013 or later (to write a trade journal)
Basic knowledge of trading
Quiet environment (to not to distract the sessions)
Dress well (you will be seen by other traders!)
Passion, Motivation, and Respect

Note

Each session and 1 on 1 sessions will be all recorded so that you can play them back
Stock and crypto traders are also welcomed
The price may change at any time

Caution

GTS is targeted to middle or above level traders. Basic operational knowledge is required.

Do not disclose any contents shared on each session as it may contain personal information.

Promoting or selling any of your services or products within a group is strictly prohibited.

Refund Policy
Refund will not be provided by clients matters. Please sign up on the course upon consideration.
FAQ
Q1: Do you provide signals during the course?
A: No. The main objective on GTS is to monitor and mentor each trader's trading skill, money management, and psychological management.
Q2: I am still a beginner. Can I participate?
A: If you are still a beginner, I do not recommend you to join the service. GTS is targeted to middle or above level traders. If you think you still need to learn the basic knowledge, I recommend you to watch my educational videos on YouTube.
Q3: What is the volume of the assignments every week?
A: You will be writing a trading journal every time you open a position and close a position along with every week's theme. Below is an example of how much time it can take on each trade.
e.g. trading hours + reports (30min) / Day
Also, there are some pre-assignments before participating the day 1. It should be done between 1 to 1.5 hours depending on your writing skills.
Contact Form
Note
It may take few days to reply. If there is no response even after one week, there is a possibility that the message is missing, so please resend it.
What happens after making a payment?
After contacting me, I will send you a payment link. Below simple 5 steps will set you everything up.
Step 1
Make a payment via link I will send to you directly. (Please contact me if you wish to pay via paypal)

When making a payment by credit or debit card, you will see below screen.

The transaction is done by Stripe. Although some of the parts are in Japanese, you can proceed to make a payment.

Valid Email Address (Please make sure it's a valid email address. You will receive a password to log in to a member's page)
Card Number
Expiration Date
CVC Number

After putting all the above information, press the blue button to make a payment.

About the check box

The check box is asking whether you save the credit card information or not. You can still proceed the transaction without checking it. 

Step 2
After the payment is done, you will be automatically forwarded to a member's page.

*Please do not close the page.

This page explains about step by step process to participate for day 1.

The password will be sent to your inbox automatically after the payment is completed on step 1.

Step 3
Please check 2 emails in your inbox. 

A receipt for the purchase.
An auto-reply mail with a password for a member's page

1: A receipt for the purchase

Just for you to keep it.

2: An auto-reply mail with a password for a member's page

Step 4
On the 2nd email, click the "download link" to get a password to log into a member's page.

When you click on the download link, below picture will pop up where it contains password information.

【Sample of the password file】

If you are not receiving receive the email

The email might be categorized as a junk mail. Check junk mail inbox, too or contact me.

Step 5
After logging into the member's page, follow the instruction and get ready for a Day 1.

If you have any questions, contact me from the form below or to the email address written on the receipt.
Contact Form
Note
It may take few days to reply. If there is no response even after one week, there is a possibility that the message is missing, so please resend it.